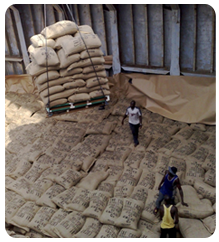 DRY CARGO CHARTERING / TANKER CHARTERING
Chartering is an activity where, a charterer who owns a cargo employs a shipbroker to find a ship to deliver the cargo for a certain freight rate. Freight rates may be on a per-ton basis over a certain route or alternatively may be expressed in terms of a total sum per day for the agreed duration of the charter.
A charterer may also be a party without a cargo who takes a vessel on charter for a specified period from the owner and then trades the ship to carry cargoes at a profit above the hire rate, or even makes a profit in a rising market by re-letting the ship out to other charterers.
Depending on the type of ship and the type of charter a charter party is used to record the exact rate, duration and terms agreed between the ship owner and the charterer.
M&M Marine stands out with its extensive capacity to get the most favorable rates for deals and performs settlements smoothly. The Company is able to promptly respond to clients' needs and coordinates all required activities with its network.